Vilm module for the International Climate Protection Fellows
International Academy for Nature Conservation
•
Climate Change
This course is part of the Alexander von Humboldt (AvH) Foundation's International Climate Protection Fellowship.
Venue
International Academy for Nature Conservation Isle of Vilm
Organiser
German Federal Agency for Nature Conservation (BfN)
Head
Asja Bernd (German Federal Agency for Nature Conservation), Daryna Dechyeva (CIPSEM)
Target group
This module is open to the Climate Protection Fellows of the AvH Foundation only.
The course introduces and explains measures for adaptation to and mitigation of climate change, and focuses particularly on issues of importance for biodiversity. Expert inputs, working groups and discussions in plenary alternate and enable an intensive exchange of experiences about these nature conservation related aspects of climate change. The module takes place in cooperation with the Centre for Postgraduate Studies of Environmental Management (CIPSEM) of TU Dresden.
Contact at BfN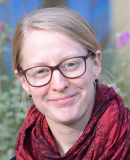 M.Sc. Global Change Ecology
Scientific officer, current focus: postgraduate programmes, climate change, communication and public relations