19th Vilm Summer Academy: Nature Conservation as a Partner of Agriculture?
International Academy for Nature Conservation
At the invitation of the International Academy for Nature Conservation Isle of Vilm (INA) of the Gernan Federal Agency for Nature Consveration, the University of Tübingen and the University of Kiel, around 50 interested participants discussed conflicting goals and opportunities for cooperation between nature conservation and agriculture at the digital 19th Vilm Summer Academy from May 17 to 20, 2021.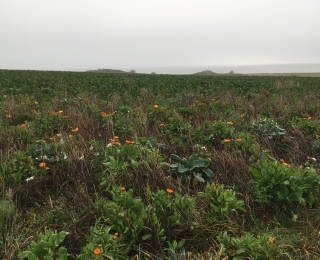 "Too often, nature conservation and agriculture are still perceived as antagonists," says Gisela Stolpe, head of the INA. "Yet both sides can benefit from cooperation. With this year's summer academy, we learned about many hopeful approaches that show how farmers can very effectively conserve and promote farmland wildlife on their land with the appropriate technical and financial support. European and national agricultural policy must finally create the necessary framework conditions so that this can also take place on a broad scale and on a permanent basis."
The 19th Vilm Summer Academy, which took place digitally for the first time due to the Covid 19 Pandemic, addressed the relationship between nature conservation and agriculture as a fundamental issue. Representatives of authorities and associations, environmental and agricultural politicians as well as conservationists and farmers were invited to exchange views on agricultural, sociological, ethical and political issues. Speakers highlighted the potential of different production systems such as organic farming, precision farming, "sustainable greening" and special measures to enhance farmland biodiversity for more nature conservation in agriculture. Participants identified necessary political, administrative and financial frameworks for better consideration of nature conservation in agriculture, such as the common good bonus. There was also an urgent call for the integration of nature conservation concerns into agricultural education.
Today's agriculture faces multiple demands such as food security, climate protection, environmental and nature conservation, health care and rural development. How the relationship between urban and rural areas is changing and what opportunities this also offers for a more biodiversity-friendly agriculture was also highlighted. Participants agreed that to improve the situation of biodiversity in the agricultural landscape, transformative change is needed in policy, in farming systems, in communication between stakeholders, but also in the self-image and professional ethos of farmers. 
As a follow-up to the conference, the "Vilm Theses on Nature Conservation as a Partner of Agriculture" will be developed on the basis of the presentations and discussions, and are expected to be published in early 2022.
The Vilm Summer Academy has been held annually for the past 20 years. The INA thus offers interested participants the opportunity to discuss fundamental issues of nature conservation. The 20th Vilmr Summer Academy on the topic "Green cities - nature conservation between competition for land use and synergies in urban areas" will already take place in August 2021.