Biodiversity and climate: current research results
International Academy for Nature Conservation
Experts from different disciplines exchanged their current research results at the trans- and interdisciplinary event "Biodiversity and Climate - Networking Actors in Germany" on September 6 and 7. The event has been held annually since 2004 at the International Academy for Nature Conservation Isle of Vilm (INA) of the German Federal Agency for Nature Conservation (BfN) to offer national actors and institutions in the field of biodiversity, climate and land degradation the opportunity for exchange and networking. Due to Corona, the event took place as a hybrid format for the first time.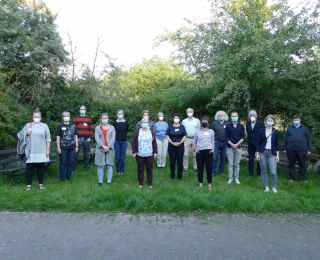 This year, 45 experts from science, politics, administration, practice and non-governmental organizations (NGOs) presented and discussed their current research results and projects in short presentations. The topics of urban nature and climate adaptation in municipalities were the focus of this year's discussions. Andreas Vetter from the Federal Environment Agency presented results of the Federal Climate Impact and Risk Analysis (KWRA) and addressed nature-based solutions in cities. Other presentations discussed possibilities for municipal climate adaptation, such as green roofs and near-natural gardens, as well as possibilities for urban planning, using the example of Erfurt. Marie Mévellec (Engagement Global) and Moritz Schmidt (LAG 21 NRW) reported on projects within the framework of international municipal climate partnerships.
On the second day, the focus was on successfully implemented projects: Katharina Burmeister from the WWF Baltic Sea office reported on the renaturation of two coastal floodplains in Mecklenburg-Western Pomerania, Dr. Barbara Köstner from LandCARE gGmbH and Dr. Elke Richert from the TU Bergakademie Freiberg presented results of the BIODIVina project on the importance of biodiversity in adaptations of viticulture to climate change. Wolfgang Schlagwein from B90/Die Grünen reported on a photovoltaic research project on fruit growing in the county and Johannes Quente from the University of Göttingen reported on the FINKA project to promote insects in conventional arable farming.
On the last day, participants had the opportunity to take part in an excursion to the renaturation project of the former polder Drammendorf/Rügen to get an on-site impression of measures to restore wetland habitats rich in carbon and biodiversity.
Abstracts of the presentations will be published as a publication in the BfN-Skripten.