Natural environments, ecosystem services and public health in a time of crisis
International Academy for Nature Conservation
From June 7-10, the third ESP Europe Regional Conference of the Ecosystem Services Partnership (ESP) took place in Tartu, Estonia. The International Nature Conservation Academy Insel Vilm (INA) of the German Federal Agency for Nature Conservation (BfN) was involved with a session on "Natural environments, ecosystem services and public health in a time of crisis".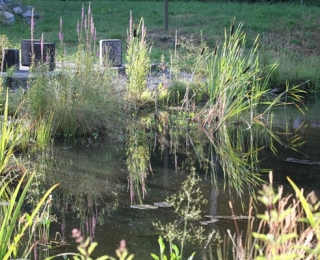 This session brought together the latest science on the impact of blue and green spaces on all aspects of human health and well-being, as well as practical guidance on how to design and manage them. Specific attention was paid to the role of biodiversity in delivering health outcomes versus the mere presence of green or blue spaces. 11 researchers and practitioners from different disciplines investigated the public health effects of natural environments and presented their scientific work.
The results and discussions showed that positive context-specific effects of nature on mental and physical health can be clearly demonstrated. Not only the direct experience of nature, but also the indirect perception of nature, e.g. looking out of the window, has a positive effect on health. Even indoor plants have a beneficial influence, which was considered especially important in times of the COVID-19 pandemic. For people's mental and physical well-being, and even for spiritual experiences, nature that can be experienced in everyday life, e.g. while commuting to work and is easily accessible like parks within walking distance is especially important. Even though at the beginning of the pandemic the use of public green spaces was in some cases severely restricted by officials or people avoided them of their own accord, the intensity of use increased sharply in the later course of the pandemic. It has been shown that especially in times like COVID-19, when other activities are restricted, the use of (public) green space for physical exercise, recreation, and social contact is very important for human health.
The relationship between health and biodiversity will also be addressed by the next Conference of the Parties of the Convention on Biological Diversity (CBD COP 15). It is planned to conclude a Global Plan of Action on Biodiversity and Health that should be implemented by the state parties.
Since 2008 ESP has organised several conference about ecosystem services, since 2016 there are alternating world conferences and regional conferences. BfN is member of the ESP since 2017 and has been involved in previous conferences.