Protection of the vast Eastern Mongolian Steppes
International Academy for Nature Conservation
Nature conservation experts from Germany and Mongolia discussed the prospects for nominating the Mongolian steppe as a UNESCO World Heritage Site from 26 to 27 January at the International Academy for Nature Conservation (INA). Representatives of the Mongolian Ministry of Education, Culture, Science and Sport as well as of German and Mongolian environmental protection organisations were guests on the Isle of Vilm. As part of a project with the aim of securing the ecologically important steppes of Eastern Mongolia in the long term, the Michael Succow Foundation (MSF) invited to this expert workshop.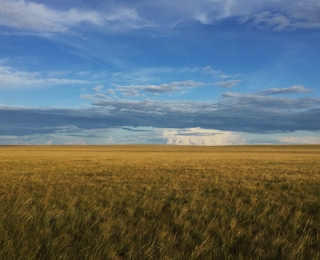 The temperate grasslands of Eastern Mongolia are still largely in a near-natural state and are home to a significant diversity of native species. At the same time they are the basis of life for a large part of the Mongolian population, who as nomads keep their cattle on the natural pastures. However, the natural resources as well as the traditional and sustainable land use are threatened by the increasing importance of the extractive industry, a trend towards urbanization and overgrazing.
"With our project we are working towards the East Mongolian Grasslands being included in the UNESCO World Heritage List. We expect that the international recognition will contribute to greater visibility and better protection of this globally unique landscape," said Nika Malazonia, Project Manager at MSF. "With the expert workshop we have laid the foundation for the protection of one of the largest intact grassland ecosystems in the world," stressed Chimed-Ochir Bazarsad, former WWF Director in Mongolia and currently an expert at the United Nations Development Programme (UNDP).
Surrounded by the nature of the Baltic Sea island, the German and Mongolian experts discussed possible scenarios for the World Heritage nomination of the steppes. They advised, among others, on the nomination as a "mixed site" (World Natural Heritage and World Cultural Heritage) in order to protect the nomadic culture at the same time.
This project is funded by the German Federal Environment Ministry's Advisory Assistance Programme (AAP) for environmental protection in the countries of Central and Eastern Europe, the Caucasus and Central Asia and other countries neighboring the European Union. It is supervised by the Federal Agency for Nature Conservation (BfN) and the German Environment Agency (UBA). The BfN has been supporting the nomination of World Heritage Sites in Central Asia with various projects for years.