University course: Students learn to reconcile nature conservation and agriculture
International Academy for Nature Conservation
In March, the International Academy for Nature Conservation Isle of Vilm (INA) in cooperation with the Institute for Agro-ecology and Biodiversity (IFAB) invited 18 students to Göttingen for the two-day introductory module of the university course "Agricultural Management and Biodiversity".
During the course, which is already taking place for the third time, experts will impart practical knowledge and methods that are necessary for successful cooperation between agriculture and nature conservation. Students from different fields of studies with previous knowledge of ecology and agriculture from all over Germany can apply. In three modules they will gain an insight into how they can successfully work together with farmers as biodiversity advisors and thus gain a good basis for further training in this professional field after their studies.
"In Germany there is a great demand for training biodiversity advisors, which has not yet been adequately met," says Gisela Stolpe, head of INA. "Often, there is either a distinct ecological or agricultural knowledge, but rarely both. With a good educational offer in this area, which is to be expanded in the future, we hope that farmers will receive competent support in the future so that farmland biodiversity increases again in the long term."
This year's introductory event of the course took place in Göttingen from 12 to 13 March 2020. The students discussed agricultural and ecological nature conservation perspectives and gained a practical insight into possible consulting situations and elements of successful consultations. The practical phase will follow in summer, during which each participant will several times visit a farm that they have selected by themselves. The students will gain an insight into agricultural practices and needs, will do a farm enterprise analysis and will interview the farmers on their perspectives on biodiversity. They will also have the task to record specified farmland species of high conservation value on the properties. The course concludes in autumn with a three-day stay on the Isle of Vilm, where the farm visits are evaluated and experts, a farmer and an agricultural advisor train the students in ecological and agricultural measures to promote farmland biodiversity.
The application period for the university course "Agricultural Management and Biodiversity" 2021 starts at the end of 2020. You must be enrolled at a German university and must be fluent in German.
Contact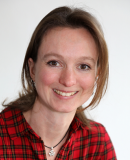 M.Sc. Biology
Scientific officer, current focus: university courses international nature conservation and agricultural management & biodiversity