Allgäu Bog Alliance
Large-Scale Conservation Projects
Alpine Foothill Bogs and Meadows
Department
Division II 2.1 Biotope Protection and Management; Protected Areas
Period
Project I: 2009-2012 (Management and development planning), Project II: 2012-2022 (implementation)
Location
Bavaria: Ostallgäu und Oberallgäu administrative districts, Physiographic unit: Southern Alpine foothills
Grant amount
Project I: 968,000 €, Project II: 8.7 million
€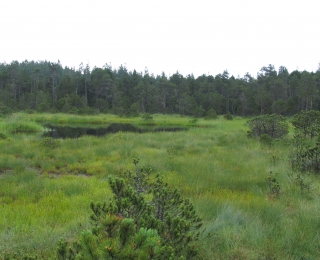 Project description
The primary objective of this nature conservation project is the long-term conservation of hydrologically intact bogs and the renaturalisation of degraded bogland in the region of the Alpine foothills and bogs in the Ostallgäu and Oberallgäu administrative districts. Ancillary aims include conserving and fostering the development of nutrient-poor moist and wet meadows around the bogland.
Watercourses are to be renaturalised by improving banks and riverbeds and by restoring natural river dynamics; water retention in the core area is to be aided by slowing runoff.
The project area is one of the best and richest areas for bogs in Germany, consisting of a largely unfragmented landscape of bog land and meadows mown for animal bedding. The main substance of the raised bogs is undegraded in some cases, with complete, largely original zonation. The area is a centre of distribution of glacial relicts such as the critically endangered or endangered dwarf birch species Betula humilis and Betula nana, string sedge, slender cotton-grass and swamp willow.
The project area also has a nationally significant diversity of endangered or critically endangered butterfly, dragonfly and damselfly species. These include the cranberry fritillary, moorland clouded yellow, alcon blue, dryad and violet copper butterflies, the bog hawker and northern emerald dragonflies and the southern damselfly. The common European adder has its national centre of distribution in the project area.
Entity responsible for the project
Zweckverband Naturschutzgroßprojekt Allgäuer Moorallianz
Schwabenstr. 11, 87616 Marktoberdorf
Project funding agencies
BMU/BfN, State of Bavaria, Zweckverband Allgäuer Moorallianz