Baar
Large-Scale Conservation Projects
Network of mires, pastures other wetland habitats, forests, open land and nutrient-poor (oligotrophic) grassland
Department
Division II 2.1 Biotope Protection and Management; Protected Areas
Period
Funding phase I: 03/2013 - 03/2017 (Drafting of a management and development plan), Funding phase II: 05/2018 - 04/2028 (implementation of measures)
Area
17 core areas covering a total of 4.289
ha
Location
Black Forest-Baar District, District of Tuttlingen, Physiographic unit: Baar, Baar Alps and Upper Danube Valley, parts of the Black Forest and Swabian Alps, Alb-Wutach region, Central European watershed between Rhine and Danube rivers
Grant amount
Funding phase I: 0.97 million €, Funding phase II: 6.37 million
€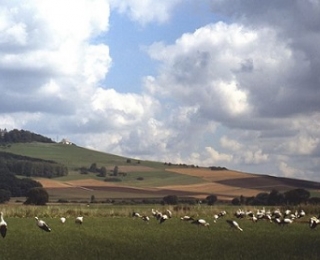 Project description
Situated on the border between the Black Forest and the Swabian Alps, the Baar is a plateau with a height of between 650 and 800 metres above sea level. It is characterised by relatively low rainfall, high temperature fluctuation and very cold winters. Geological layers from the Mesozoic age are evident in a very compact area.
It is on the Baar that the sources of the Danube and the Neckar rivers originate. These local conditions form the basis for a wide variety of ecosystems, including diverse mires. These mires are home to a range of endangered mire species such as the bird's eye primula, bog birch and the violet copper butterfly.
Apart from its mires, the Baar largely comprises forest (oak-hornbeam forests, relict pine forests and thermophilic limestone-beech forests). These established forest structures provide habitats for many types of woodpecker and bat, and for some 174 species on Germany's Red List and Early Warning List.
The Baar lies along a key bird migration route and, apart from the Alpine foothills, is the most important breeding and wintering ground for rare meadow breeders in Baden-Wuerttemberg. It is visited by corncrakes, corn buntings, whinchats and also by red and black kites, which make up the highest breeding bird population in south-west Germany.
As the place where forest, dry-land and wetland habitats meet, the Baar is a hub of international importance in the habitat network. Its continental highland climate provides just the right conditions to offer cold-loving species an area of retreat away from the low mountain range.
The Baar large-scale nature conservation project is designed to establish and develop a network of mires, pastures or litter meadows, wet meadows and other wetland habitats, forests, open land and nutrient-poor (oligotrophic) grassland. This will make the region far more passable, thus enhancing its role in the habitats network. Measures to re-irrigate the mires and stabilise mire water levels serve in achieving the project's aims. Where necessary, natural succession areas will be designated and private areas purchased.
The planned measures will be communicated in the form of informational materials and exhibitions, project-related events and the creation of learning and discovery trails.
Entity responsible for the project
Landratsamt Schwarzwald-Baar-Kreis, Dienstgebäude | Umweltzentrum Schwarzwald Baar Neckar, Möglingshöhe
Neckarstrasse 120, 78056 Villingen-Schwenningen
Project funding agencies
German Environment Ministry/Federal Agency for Nature Conservation (BMU/BfN), Baden-Wuerttemberg State Government, Black Forest-Baar Regional Administration