Development of a modular training package on Other Effective Area Based Conservation Measures (OECMs)
International Academy for Nature Conservation
•
International cooperation
•
Digitalisation
The Convention on Biological Diversity (CBD) requests so-called "other effective area-based conservation measures" (OECMs) to be counted alongside protected areas in order to achieve the ambitious global area-based conservation targets. OECMs can make a significant contribution towards reaching CBD-Aichi Target 11, but the term OECM is still little known. The IUCN-WCPA (World Commission on Protected Areas) Specialist Group on OECMs, with the support of the International Academy of Nature Conservation Insel Vilm (INA), has developed trainings and associated materials on "other effective area-based conservation measures" (OECMs).
Department
Staff Unit INAuV International Nature Conservation Academy / Administration and Mangement
Description
OECMs are areas outside protected areas where nevertheless effective conservation takes place. The primary purpose of OECMs is not the conservation of nature, but conservation can be reached as a by-product. For example, areas used by the military with high conservation value or, indigenous territories with low human activity could qualify as an OECM, if they deliver long-term in situ conservation of biodiversity through effective management. The actual conservation success is a prerequisite for their recognition. OECMs are an important complement to protected areas and are recognized within the CBD as a significant conservation measure. However, countries hardly recognize OECMs so far and often do not provide them with the necessary support.
During this project, training events were held that addressed stakeholders in two different regions - in Africa and Asia. To establish a community of practice follow-up online trainings were conducted. Participants from all over the world joined another online training session on OECMs at the World Conservation Congress 2021. The trainings developed through this project are intended to assist individuals and Parties to correctly identify, recognize, and report OECMs and thus contribute to reach area-based conservation targets.
At the same time, training materials were developed and made available online (free of charge) for face-to-face or online trainings. The materials support potential trainers but can also partially be used for self-paced learning. Materials comprise instructions, learning plans, detailed training notes, presentations and films as well as supplementary background literature in English.
Contractor
International Union for the Conservation of Nature (IUCN)
28 Rue Mauverney, 1196 Gland, Switzerland
Contact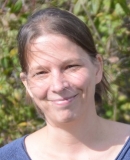 M.Sc. / M.I.N.C. Master of International Nature Conservation
Scientific officer, current focus: conservation in development cooperation, international nature conservation