Handbook: Using satellite images for wetland management in Africa
International cooperation
•
Digitalisation
International projects
Research and development projects
Inhaltliche Schwerpunkte
International Wetland Conservation
Department
Division I 2.3 International Nature Conservation
Period
January 2018 - November 2020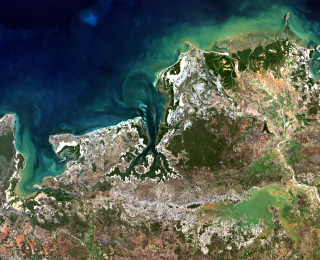 Description
Background
African wetlands are not only the habitat of countless animal and plant species, they also provide water, food and natural resources to local populations and thus contribute to sustaining their livelihoods.  However, lakes and rivers, marshes and swamps, mangrove forests and coral reefs are threatened by increasing land use pressures, land conversion, pollution and climate change. Using satellite data, wetland managers are able to classify the diverse habitats, track land use changes, plan management measures and communicate results. Within a BfN-funded project, a handbook was developed for this purpose.
The project
The main objective of the project was to promote the use of remote sensing data (i.e. satellite imagery) for the sustainable management of wetlands in Africa. Therefore, two multi-day consultation workshops were held with African wetland managers to discuss existing approaches, demand and areas of application. The first workshop took place in September 2019 as a physical meeting in Zambia, the second in July 2020 as a virtual workshop with hosts from Benin. Experts from over twenty Southern and Western African countries shared their experiences, discussed challenges for wetland conservation and identified potential areas of application for satellite data.
The workshops also included training sessions in which the free software toolbox "GEOclassifier" was introduced. The toolbox had been developed specifically for the use of satellite data in wetland management through several preceding projects funded by the EU and the European Space Agency (ESA). Using GEOclassifier, freely available satellite imagery can be used, for example, to map wetlands in remote areas that are difficult to access physically, or to create detailed land use maps via a semi-automated classification process. With time series of images with different acquisition dates, users can also map seasonal high and low water, analyse losses of natural wetland types or the expansion of certain land use classes, and calculate spatial statistics or further indicators.
The results of the workshops and the diverse application options of the GEOclassifier toolbox were summarised in the handbook "Using Satellite Images for Wetland Management and Planning in Africa". Furthermore, the handbook contains case studies from eleven African countries on possible uses for remote sensing data in the management of selected "Wetlands of International Importance" or Ramsar protected areas. The project was conducted in close cooperation with the Secretariat of the Convention on Wetlands (Ramsar Convention).
Contractor
Otto-Eppenstein-Straße 3, 07745 Jena
Contact in the BfN
Dr.
Bettina
Hedden-Dunkhorst
Head of Department I 2.3 International Nature Conservation