Landschaft der Industriekultur Nord
Large-Scale Conservation Projects
Department
Division II 4.1 Landscape Planning, Spatial Planning and Urban Development
Period
Project I: 2009 - 2012 (development and management planning), Project II: 2013 - 2024 (implementation)
Location
Physiographic region: Saarkohlenwald, Prims-Blies-Hügelland
Grant amount
Project I: 828.000 €, Project II: 12.550.000
€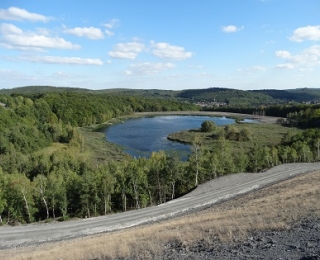 Project description
Landschaft der Industriekultur Nord - 'Industrial Culture Landscape North' - is a large-scale conservation project covering a mosaic of landscape structures typical of a former coal mining and steelmaking region, with derelict industrial sites, pit tips and tailing ponds and the water features and land use forms found in such regions. The transformation and conversion processes that the region has undergone in the last three decades are characteristic of a post-mining landscape and create a space for implementing conservation and land use strategies that are representative of and provide a model for areas of this kind. The project's conservation objective is to preserve a representative blend of the diverse and in some cases very contrasting habitats of the urban industrial Saarland post-mining landscape. The four landscape laboratories in the core area with its 18 sub-units are representative of the different types of landscape and land use - and hence of the range of characteristic habitats - in a heritage industrial region, and are unique in making up a complete suite of such habitats in such a relatively small area.
In one landscape laboratory, 'Neuerfindung der Berkmannskuh' ('Reinventing the miner's cow' - 'miner's cow' being a humorous regional term for the goats kept by mining families on their small plots of land), small cultivated habitats are dovetailed with rivers and streams featuring various Red List species including northern bedstraw, large copper butterfly, little owl, European crayfish and spined loach. The focus is on ensuring the continued extensive grazing of meadow and pasture land, bringing sparse orchards back into use, and rehabilitation and renaturalisation of the watercourses along which these land use forms developed in the past.
In a second landscape laboratory, 'Forstwirtschaft und natürliche Prozesse' ('Forestry and Natural Processes'), the emphasis is on creating a near-natural forest structure with the large areas of existing beech-oak forest and small areas of alder-ash and oak-hornbeam forest with populations of lesser stag beetle, longhorn beetle, etc. A change in forestry management by the state forestry will allow the forest to develop into deciduous forest with a large proportion of old trees and minimum disturbance to natural processes.
The largest of the landscape laboratories, 'Bergbaufolgelandschaft Heinitz' ('Heinitz post-mining landscape), features urban industrial habitats with extreme sites such as pit tips, transient waterbodies and derelict industrial land that are home to numerous specialised species including European green toad, yellow-bellied toad, blue sand grasshopper, saltmarsh rush, southern damselfly and, in threatened woodland margins, the chalkhill blue and pearl-bordered fritillary butterflies. The aim here is to allow natural succession alongside a range of pioneer sites. Plans for tailing and holding ponds include removal work, bank shaping and in some places measures to keep banks free of vegetation.
The mosaic of characteristic landscape structures is completed by the last landscape laboratory, 'Vogelzug und Wilde Weiden' ('Bird Migration and Wild Pasture'). This centres around a large tailing basin that is to be integrated into the surrounding semi-open pasture landscape. Species such as great reed warbler are found in the large siltation zones. The aim is to maintain the structures that have developed around the tailing basin since it fell out of use (siltation zones and reedbeds) and encourage their further development, and to restructure surrounding farmland in such a way that the basin becomes the central feature of a semi-open pasture landscape.
These activities are accompanied by numerous public relation actions and environmental education activities in the landscape laboratories. These are, for instance, "LIK Nord macht Schule" or the "nature experience days". The aim of these actions is to involve the local population and particularly children and young people in the project. Thus identification processes and image building can be positively influenced. 
The nature conservation project "Industrial Culture Landscape North" is one of five winners of the "idee.natur competition" For the first time since the start of the support of large-scale conservation projects in 1979, a project in an urban-industrial region has been included in this funding.
Project executing agencies
Zweckverband Landschaft der Industriekultur
Altes Bergwerk Reden Bahnhofstraße 17, 66578 Schiffweiler / Landsweiler-Reden
06821 2902748
06821 2903836
Project funding agencies
BMUB/BfN, Saarland, Zweckverband Landschaft der Industriekultur
Kontakt im BfN
Stellvertretende Leitung FG II 4.1 Landschaftsplanung, räumliche Planung und Siedlungsbereich