BfN Schriften 658 - The puzzle of transformation. Impulses from environmental psychological research
The field of environmental psychology has gained tremendous momentum over the last years, with more and more people realising that humans are responsible for global environmental change, while at the same time failing to do something against it. Students and young scholars of environmental psychology are actively investigating these antecedents and consequences of environmental behaviour.
The 2021 Environmental Psychology Summerschool brought together eminent speakers from various backgrounds in Environmental Psychology and adjacent fields, and young research talents presented and discussed their work to a scientific audience. The work compiled in this issue presents this passionate and professional research of young scholars of environmental psychology.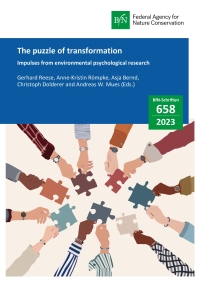 Editor
Gerhard Reese, Anne-Kristin Römpke, Asja Bernd, Christoph Dolderer and Andreas W. Mues