Sustainable use and nature-friendly consumption
Promoting sustainable use of natural resources is essential for biodiversity conservation worldwide. In working to promote nature-friendly consumption, BfN is also active at international level.
Sustainable use of nature and the landscape
Nature-friendly und sustainable use of natural resources combines meeting human needs with conservation of biodiversity and ecosystems. In addition to nature-friendly agriculture, forestry und fishery, the range of issues covered includes developing sustainable tourism for protected areas, promoting traditional nature-friendly land-use models and developing innovative new management practices. Around the world, BfN supports projects for sustainable use of the natural environment, especially in relation to the UNESCO Man and the Biosphere (MAB) Programme.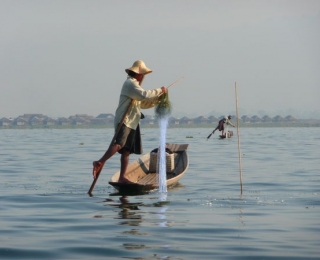 Nature-friendly consumption from an international perspective
Consumption patterns seen in countries like Germany have serious impacts on nature and the environment worldwide. Unsustainable mining and extraction of raw materials along with the production, transport and disposal of consumer goods are not only associated with high energy and resource use, and emissions of greenhouse gases and pollutants, they also have serious consequences for biodiversity. Rare habitats are destroyed to create new production sites, waters and soils are polluted, and ecosystems and their vital functions are disrupted or destroyed. This is why BfN takes a proactive approach to promote nature-friendly consumption.
Working as one for nature-friendly consumption
To promote nature-friendly consumption, BfN assists international activation of stakeholders from industry, policymaking and civil society. As part of that work, the project on "Gemeinsam für naturverträglichen Konsum" (working as one for nature-friendly consumption) – which ran from 2019 to 2022 – focused on information, communication and international cooperation. Under the UNEP's One Planet Network, an international Working Group on Biodiversity Communication was created to raise greater awareness to the nature conservation perspective in international processes surrounding sustainable consumption. A Biodiversity Communication Toolkit was also published along with supporting materials for use in information and communication. These included various infographics, two policy briefs, a communication guide, inspirational examples of good practice campaigns and various other resources.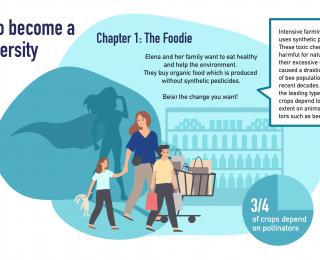 Background and recommendations for action
As part of the BfN-funded project on Sustainable Consumption for Biodiversity and Ecosystem Services conducted from 2017 to 2019, the impacts of German consumption on biodiversity and ecosystem services in the countries of origin of the products and services used were assessed and recommendations for action developed, using three case studies focusing on soy, cotton and lithium. The results of the study make it clear that in countries like Germany, major changes of our consumption patterns are needed without delay. In many cases, the most efficient way to mitigate the serious impacts of consumption is to reduce the quantities consumed by encouraging sufficiency-oriented lifestyles. Proposed measures range from reducing meat consumption in the food sector, moving away from the fast fashion culture in the textiles industry and reducing dependency on private motorised transport.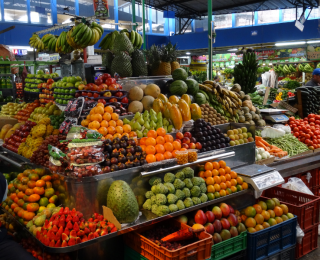 All-round commitment is needed
To achieve the turnaround in consumption, policymakers and also decision-makers in the business sector are called upon to create the conditions needed to enable more sustainable purchasing decisions. The Federal Government can also serve as an important role model by taking biodiversity criteria into account in public procurement.