The Western Rønne Bank HD site – Area I
The approximately 86 km² Area I encompasses the western slope of the Rønne Bank at depths of 22 m to 35 m and consists of several end moraines. At the north-western slope there are isolated reef areas, which are representative of the stony slope reefs of the Baltic Sea. Here, large boulders are densely overgrown by blue mussels (Mytilus edulis). The single individuals are not as big as the mussels in the Kadet Trench, but occur in high numbers and great density on the boulders. The other invertebrate benthic fauna are marine-euryhaline species. Euryhaline means that these species have a high tolerance towards reduced salinity. The number of marine species is higher than in Adler Ground because the deeper areas underneath the halocline are colonised by additional species of soft-bottom communities.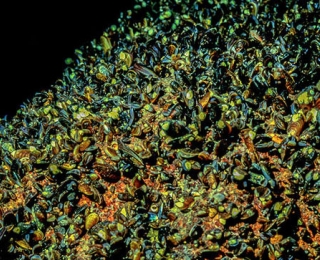 Facts Western Rønne Bank (HD site) – Area I of the complex area
Fact sheet

HD site
Western Rønne Bank
EU Code: DE 1249-301

 

Habitat types

Reefs

approx. 65 km²

Species/numbers

Harbour porpoise (Phocoena phocoena)

11-50
Wichtige Merkmale des Bereichs I
Die wallartigen Blocksteine sind häufig mit Miesmuscheln bewachsen. Die individuenreiche Bodenfauna sorgt für großen Fischreichtum. Stark bedrohte Schweinswale der zentralen Ostsee finden hier reichlich Nahrung.
Die hier vorherrschenden geo-hydrologischen Bedingungen führen zu einer einzigartigen und individuenreichen Fauna und Flora. Auf den wallartigen Blocksteinen siedeln Miesmuscheln dicht and dicht. Auch Rotalgen kommen vor, allerdings in deutlich geringerer Dichte als im Fehmarnbelt oder in der Kadetrinne und nicht bis in die gleiche Tiefe. Auch Seepocken (Balanidae) besiedeln hier noch einige Miesmuschelbänke. Fischarten wie Schwimm- und Schwarzgrundeln (Gobidae), Aalmutter (Zoarces viviparus), Sprotten (Sprattus sprattus), Heringe (Clupea harengus), Plattfische (Pleuronectidae) und Dorsche (Gadus morhua) finden reichlich Nahrung und Versteckmöglichkeiten.
Als Anhang II-Art der FFH-Richtlinie werden Schweinswale geschützt. Bei den im Bereich I bislang nachgewiesenen Schweinswalen handelt es sich im Winter vermutlich um Tiere der stark gefährdeten östlichen Schweinswalpopulation der zentralen Ostsee. Diese insgesamt nur noch rund 500 Individuen umfassende Teilpopulation nutzt das Gebiet als Migrations- bzw. Überwinterungshabitat. Auch Mutter-Kalb-Paare wurden hier schon gesichtet. Da der Kleinwalbestand in der zentralen Ostsee extrem niedrig ist und als sehr stark gefährdet gilt, sind die Sichtungen von besonderer Bedeutung. Insbesondere in kalten Wintern ist das Gebiet überlebenswichtig für aus eisbedeckten Regionen der Ostsee einwandernde Tiere. Bestehende Verpflichtungen Deutschlands im Rahmen des Abkommens zum Schutz der Schweinswale (ASCOBANS) und der FFH-Richtlinie geben das verbindliche Ziel vor, die in deutschen Gewässern gefährdeten Populationen dieser Art wieder aufzubauen und wichtige Lebensräume zu sichern.
Plentiful bottom fauna ensures abundance of fish
The geo-hydrological conditions here result in unique and plentiful fauna and flora. Blue mussels settle densely on the rampart-like boulders. Red algae are also present but in distinctly lower densities than in the Fehmarn Belt or in the Kadet Trench and not down to the same depth. In addition, barnacles (Balanidae) still colonise several blue mussel banks. Fish species such as the two-spotted and black gobies (Gobiidae), viviparous eelpout (Zoarces viviparus), European sprat (Sprattus sprattus), Atlantic herring (Clupea harengus), flatfishes (Pleuronectidae) and Atlantic cod (Gadus morhua) find abundant food and hiding places.