The Pomeranian Bay – Rønne Bank Nature Conservation Area
The 2,092 km² Pomeranian Bay – Rønne Bank Nature Conservation Area is located about 20 km east of the island of Rügen. It extends from the reefs of Adler Ground and Rønne Bank in the north and northwest to the seaward border of Germany's coastal waters, where it includes Odra Bank, the largest sandbank in the German Baltic Sea. Every year, the abundance of food in this sizeable protected area, and its ice-free condition, even in cold winters, attract up to half a million sea ducks that rest here and feed to gain fat reserves for their exhausting migration. The interaction within the food web of the Baltic Sea can be observed here in a unique way. The NCA ensures important feeding, resting, reproduction and rearing areas for innumerable threatened species ranging from the smallest benthic organisms and migratory fish to endangered seabird species and marine mammals.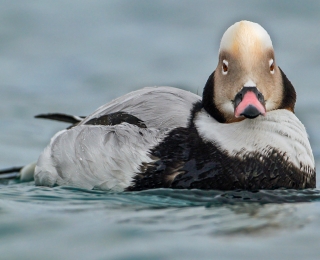 The Pomeranian Bay – Rønne Bank Nature Conservation Area is a complex area, where different protection regimes border on each other or overlap in some cases. This area unifies the European Natura 2000 sites protected by the Habitats Directive (HD) and the Birds Directive (BD). The individual sections corresponding to a HD site or bird protection area (SPA - Special Protection Area) are described as (sub)areas in the Protected Area Ordinance for this complex area.
The HD subarea Western Rønne Bank is denoted as Area I, the HD site Adler Ground as Area II, and the HD site Pomeranian Bay with Odra Bank as Area III. The Pomeranian Bay SPA corresponds to Area IV and overlaps with Areas II and III.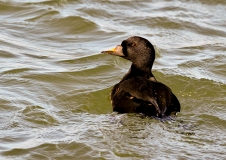 Akkordeon
Das NSG Pommersche Bucht – Rönnebank stellt ein Komplexgebiet dar, in dem verschiedene Schutzregime aneinander angrenzen oder sich räumlich überlagern. Es vereint damit die europäischen Natura 2000-Gebiete, die nach Fauna-Flora-Habitat-Richtlinie (FFH-RL) und Vogelschutzrichtlinie (VRL) geschützt werden. Die einzelnen Teile, die einem FFH- oder Vogelschutzgebiet entsprechen, werden in der Schutzgebietsverordnung des Komplexgebietes als Bereiche bezeichnet.
Das FFH-Teilgebiet Westliche Rönnebank wird als Bereich I, das FFH-Gebiet Adlergrund als Bereich II und das FFH-Gebiet Pommersche Bucht mit Oderbank als Bereich III benannt. Der Teil des Vogelschutzgebiets Pommersche Bucht entspricht dem Bereich IV. Es überlagert sich mit den Bereichen II und III.
Facts Pomeranian Bay – Rønne Bank Nature Conservation Area
Natura 2000 site placed under national protection as an NCA in 2017

Fact sheet

HD site
Western Rønne Bank
EU Code: DE 1249-301

HD site
Adler Ground
EU Code: DE 1251-301

HD site
Pomeranian Bay with Odra Bank
EU Code: DE 1652-301

SPA Pomeranian Bay
EU-Code: DE 1552-401 

 

Habitat types

Sandbanks

approx. 567 km²

 

Reefs

approx. 175 km²

Species/Numbers

Harbour porpoise (Phocoena phocoena) population of the central Baltic Sea

Overwintering and migration habitat (total population in central Baltic Sea only about 500 individuals)

 

Grey seals (Halichoerus grypus)

Used as migration and feeding habitat

 

Twait shad (Alosa fallax)

Recorded

 

Baltic sturgeon (Acipenser oxyrinchus)

Recorded; reintroduction possible. (See: Wiederansiedlung des Störs)

 

Long-tailed duck (Clangula hyemalis)

100,000 in winter (2013)

 

Red-throated and black-throated diver (Gavia stellata, Gavia arctica)

3,000 in spring (2013)
Conservation targets and conservation objectives
The conservation targets and conservation objectives for the Pomeranian Bay – Rønne Bank NCA result from §3 of the Protected Area Ordinance (NSGPBRV). They include, in particular, the maintenance and restoration of:
The specific ecological functions of the area and its biodiversity, and the natural hydrodynamics of the area

A favourable conservation status of the habitat types "sandbanks which are slightly covered by sea water all the time" (Code 1110) and "reefs" (Code 1170) with their characteristic and threatened ecological communities and species

A near-natural development of marine macrophytes (algae and kelps)

The interconnectedness of benthic communities in the southern Baltic Sea

A near-natural development of the areas that were affected through earlier sediment extraction

A favourable conservation status of the following HD species and their habitats: harbour porpoise (e.g. through the ASCOBANS Recovery Plan for Harbour Porpoises in the Baltic Sea) and grey seal

A favourable conservation status of the HD species twait shad and Baltic sturgeon (in particular adequate habitat management for its reintroduction)

A favourable conservation status of the seabird species that are especially valuable for protection purposes (species of Annex I of the Birds Directive, and other migratory bird species), including their resting, wintering, feeding and moulting areas.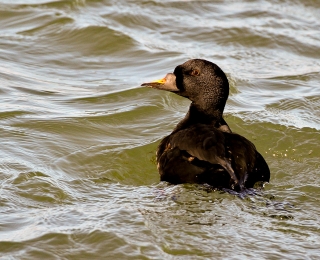 Significant anthropogenic uses and their regulations
There are currently no areas without anthropogenic uses in the German Exclusive Economic Zone (EEZ) of the Baltic Sea. Intensive gillnet fishing takes place in the Pomeranian Bay – Rønne Bank NCA, especially in the northern areas and particularly in Adler Ground. The bycatch of birds and marine mammals in gillnets is a serious ecological problem in this area.
However, commercial fishing regulations can only be issued within the framework of the EU's Common Fisheries Policy (CFP). The proposed measures for the Baltic Sea are currently going through complicated national and European agreement processes.
In the central-eastern section of the Pomeranian Bay, there is a recreational fishing regulation zone laid down by the Protected Area Ordinances. This 1,395 km² area is closed to recreational fishing all year round, e.g. due to the seabirds that rest or moult here during the whole year as well as the occurrence of endangered harbour porpoises.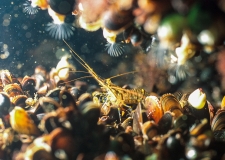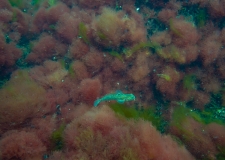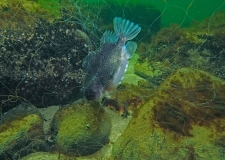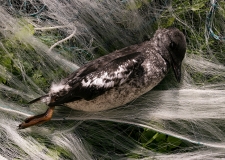 Selected publication (German)