Start of fellowship programme for young conservationists
International Academy for Nature Conservation
Application for the 2023-2025 cycle of the Klaus Toepfer Fellowship Programme is now open until March 26, 2023. The in-service training starting autumn 2023 aims at early-career professionals in nature conservation from Eastern Europe, the Caucasus and Central Asia. The programme combines building expertise and leadership skills with networking for nature conservation.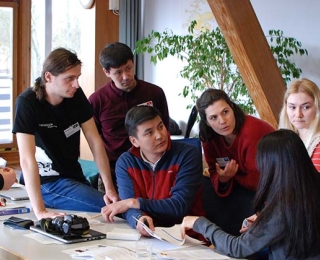 Over a period of 18 months, programme fellows learn and apply best conservation practice and policy and acquire management and leadership skills. Two modules will take place at the International Academy for Nature Convervation Isle of Vilm and two online. After graduation, fellows become part of a growing network of leaders in nature conservation. The participants of the last years implement what they have learned in their home countries and home organizations and ensure a broad impact for the programme.
Early-career conservation professionals from Eastern Europe, the Caucasus and Central Asia working for governments, NGOs, academia or other relevant sectors are invited to apply. The programme looks for individuals with high potential and outstanding abilities and motivation, who have the support of their home organizations to attend the course, and a clear commitment to a career in their country of origin.
Background
The programme is financed by the Federal Ministry for the Environment, Nature Conservation, Nuclear Safety and Consumer Protection (BMUV) with funding of the Advisory Assistance Programme for Environmental Protection in the Countries of Central and Eastern Europe, the Caucasus and Central Asia. The Federal Agency for Nature Conservation implements the programme at its International Academy for Nature Conservation Isle of Vilm in cooperation with the IUCN, the CBD Secretariat, the Secretariat of the CMS, and UNEP-WCMC. Klaus Toepfer, former UNEP Director, is its patron.